Dr. Temple Grandin: In Person
August 2, 2022
Washington High School
608 E Walnut Street
Washington, IN 47501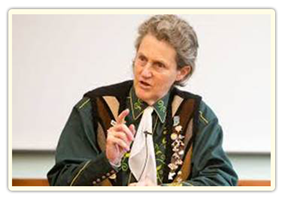 Sponsored and hosted by the Daviess-Martin Special Education Cooperative & the Indiana Resource Center for Autism


Presenting Two Workshops:
Developing Different Kinds of Minds
1:00pm - 2:30pm (EST)
This workshop is geared for school personnel, early childhood educators, adult providers, others involved in supporting someone on the autism spectrum, family members, and those who are neurodiverse. Temple will discuss her experiences, and her perspectives on leading a meaningful life. There is a nominal cost for this presentation for non-Washington School District Employees of $15 USD.
The Importance of Good Stockmanship
10:30am - 11:30am (EST)
This presentation is free and is geared toward members of Future Farmers of America (FFA), 4-H, and others involved in the livestock industry. Temple will share her experience and expertise in livestock handling and management.
Cost & Registration Information
The registration fee for Developing Different Kinds of Minds is $15.00 USD.

Registration and payments are processed online by Indiana University (IU) Conferences. You may pay with a purchase order, credit, or debit card. Once registered, you will receive an email with your invoice/receipt iuconfs@indiana.edu.
All registrations are final. No money will be refunded.

To register, use this link: https://go.iu.edu/4pV2