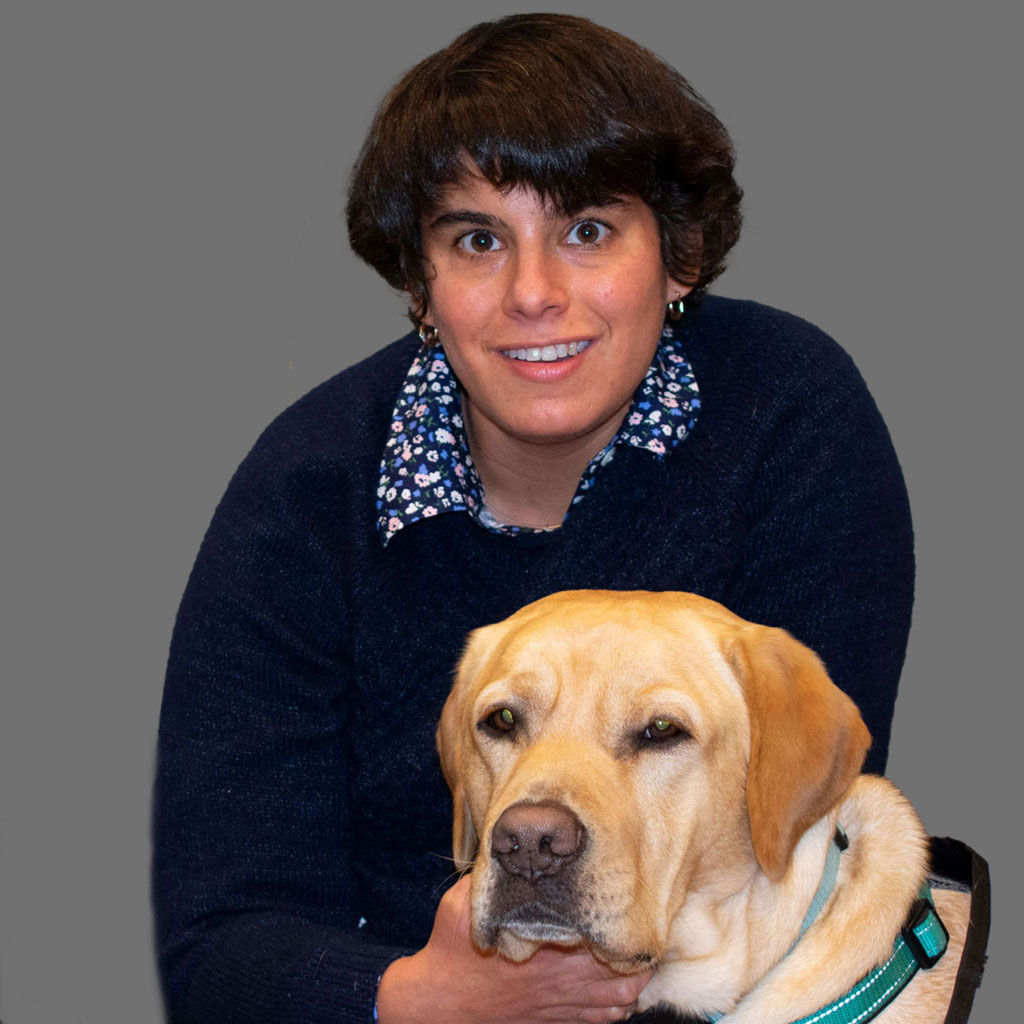 Adria Nassim is originally from Floyd County, Indiana and is diagnosed with multiple disabilities including cerebral palsy, a learning disability, and an autism spectrum disorder. She graduated from Brescia University, a small Catholic liberal arts university in Owensboro, Kentucky in 2010 with a BA in English and Spanish. She came to Bloomington her junior year of college in 2008, after she enrolled at The College Internship Program's Bloomington campus. The College Internship Program is a private independent living, social skills, academic, vocational, and mental health support program for young adults with autism spectrum disorders and learning disabilities. Nassim settled in downtown Bloomington where she found employment as a columnist with The Herald-Times. As a research assistant with the Indiana Institute on Disability and Community, she writes the blog Adria's Notebook which focuses on her experiences as a young adult with disabilities, and discusses independent living and community involvement in teens and young adults with DD. She also works giving lectures and presentations on autism and developmental disability to college students, area businesses, and other organizations. She serves on the board of directors for the Monroe County Autism Foundation, enjoys swimming, following politics, and loves dogs.
Degrees
Bachelor of Arts, English, Emphasis in Professional Writing, Spanish Minor Brescia University, Owensboro, Kentucky
Personal Statement
Since I was young, I have known I wanted to do something to help better the lives of children with disabilities and their families. Through sharing my personal experiences of growing up with multiple disabilities I hope to provide insight for audiences as to what living with disability can actually be like day to day.
Thomas the Service Dog
Thomas, otherwise known as "Mr. T." was matched with Adria in September 2021. He is a service dog trained through The Indiana Canine Assistants Network, (ICAN) a nonprofit service dog training organization based in Zionsville, IN. Thomas is trained to assist Adria with challenges relating to an autism spectrum disorder and cerebral palsy. He loves to help her through the day by picking up objects, retrieving items on cue, assisting with balance on stairs and other uneven surfaces, and helping her safely cross streets. Thomas is very excited to join Adria at work and begin his new role as an Institute staff member. When he is not on the clock, he enjoys "free sniffs" in the grass, chewing his Nylabone on the living room rug, and chasing his favorite squeaky ball with Adria.
Research Interests
Autism Spectrum Disorders
Learning Disabilities
Abnormal Neurologic Development in Children and Adolescents
Awards and Honors
Nominated to Who's Who Among Students in American Universities and Colleges, 2010
Received the Mayor's Award from The City of Bloomington Council for Community Accessibility, 2016 for her work in The Herald-Times
Featured in Bloomington's Bloom Magazine twice for her work in The Herald-Times and for her efforts to make Bloomington more aware of the struggles and challenges facing individuals with autism and related disabilities
Invited guest speaker, MENSA International Summer 2018 convention
Asked to testify before Indiana State Senate regarding bills impacting young adults with disabilities, 2015