In 2008, based on a sample of 8 year olds, the Centers for Disease Control (CDC) reported that the prevalence of autism had risen to 1 in 88 in American children.  By 2010, using a similar sample, it was announced the prevalence had climbed to 1 in 68.  The latest surveillance data from 2014, reports the prevalence to be 1 in 59 (https://www.cdc.gov/mmwr/volumes/67/ss/ss6706a1.htm). 
 
So, what does this mean for Indiana?  Since no database currently exists in Indiana with the actual number of people on the autism spectrum, either statewide or by county, the only real figure comes from the December 1 child count data collected by the Indiana Department of Education, Department of Special Education.  These data are collected from all public school districts across Indiana.  The chart at the end of this article illustrates the increasing prevalence of ASD
since 2006-07. 
 
According to the child count data from December 2012, the number of children served under the diagnostic category of ASD was 13,020; and with the December 2013 data, the number had grown to 13,675.  By December 2014, this number had grown to 14,179 and by December 2015, there was an increase from the previous year of 1,112 for a total of 15,291. Child count data from December 2016 was 15,815 for an increase of 524 students ages 3-21.  Last year's child count data (December 2017) for children ages 3-21 was 16,356 for an increase of 541.  This year's child count data (December 2018) for children ages 3-21 is 16,715 for an increase of 359.  According to Indiana's child count data, ASD is the fourth most prevalent disability category behind Specific Learning Disability, Language/Speech Impairment, and Other Health Impairment.
The number of students enrolled in Indiana's public and non-public schools during the 2018-2019 school year is 1,141,130.  Using this data and the child count data from December 2018, approximately 14.65 per 1,000 students in Indiana have a diagnosis of ASD. Last year's identification rate was 1 in 69. This year's identification rate is 1 in 68. The child count data does not include children who are not on special education service plans, are home schooled or are in non-public schools. All who have either an IEP or special education service plan are counted.
The 2018 CDC report also shares the following information (For all data, visit their website at https://www.cdc.gov/ncbddd/autism/data.html):
ASD is reported to occur in all racial, ethnic, and socioeconomic groups.
ASD is about 4 times more common among boys than among girls.
ASD tends to occur more often in people who have certain genetic or chromosomal conditions. About 10% of children with autism are also identified as having Down syndrome, fragile X syndrome, tuberous sclerosis, or other genetic and chromosomal disorders.
Almost half (44%) of children identified with ASD has average to above average intellectual ability.
ASD commonly co-occurs with other developmental, psychiatric, neurologic, chromosomal, and genetic diagnoses. The co-occurrence of one or more non-ASD developmental diagnoses is 83%. The co-occurrence of one or more psychiatric diagnoses is 10%.
Research has shown that a diagnosis of autism at age 2 can be reliable, valid, and stable.
Even though ASD can be diagnosed as early as age 2 years, most children are not diagnosed with ASD until after age 4 years.
Studies have shown that parents of children with ASD notice a developmental problem before their child's first birthday. Concerns about vision and hearing were more often reported in the first year, and differences in social, communication, and fine motor skills were evident from 6 months of age.
Perhaps the most startling data highlights the economic impact of this disability.
The total costs per year for children with ASD in the United States were estimated to be between $11.5 billion – $60.9 billion (2011 US dollars). This significant economic burden represents a variety of direct and in-direct costs, from medical care to special education to lost parental productivity.
Children and adolescents with ASD had average medical expenditures that exceeded those without ASD by $4,110–$6,200 per year. On average, medical expenditures for children and adolescents with ASD were 4.1–6.2 times greater than for those without ASD. Differences in median expenditures ranged from $2,240 to $3,360 per year with median expenditures 8.4–9.5 times greater.
In 2005, the average annual medical costs for Medicaid-enrolled children with ASD were $10,709 per child, which was about six times higher than costs for children without ASD ($1,812).
In addition to medical costs, intensive behavioral interventions for children with ASD cost $40,000 to $60,000 per child per year.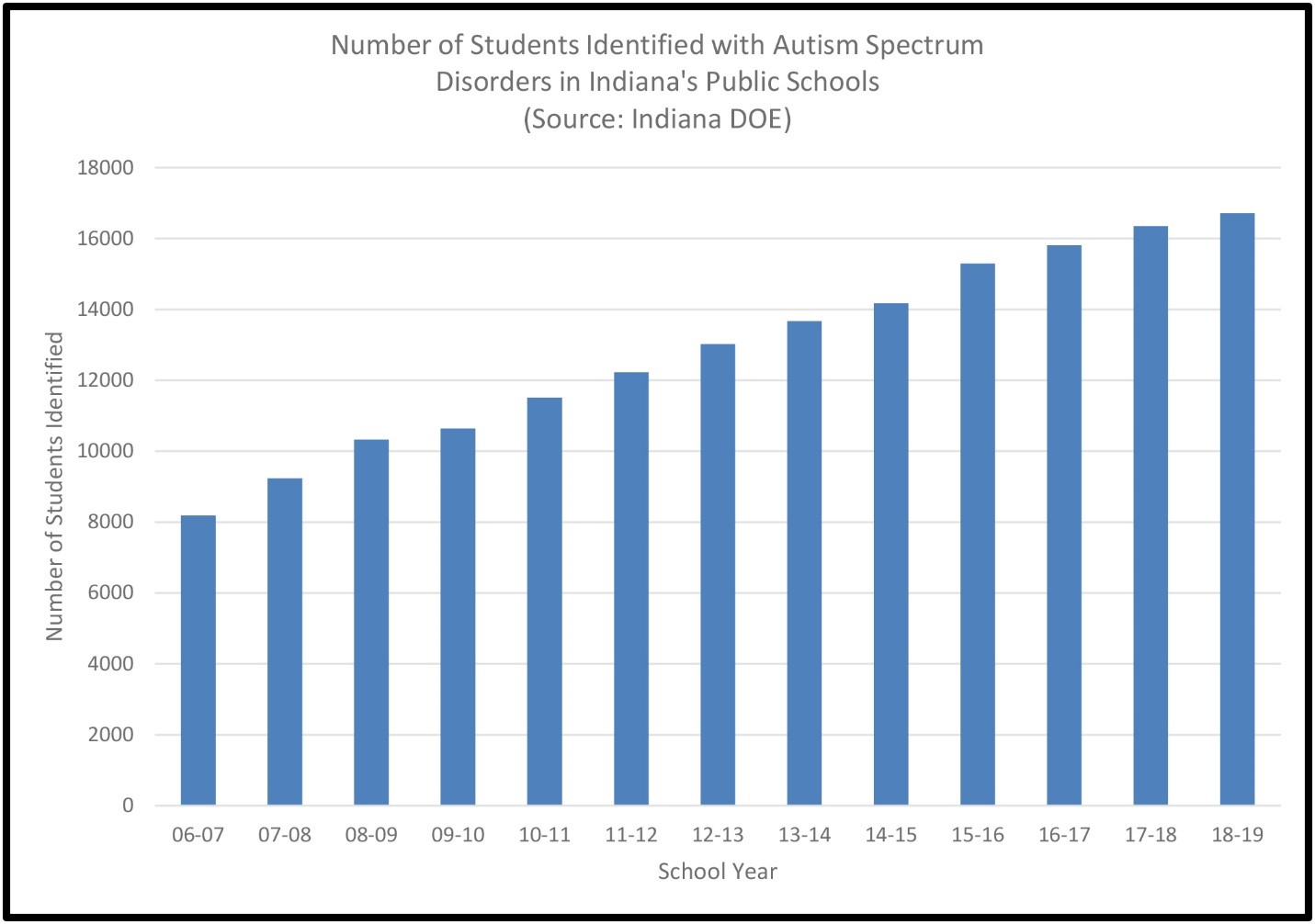 ---

Pratt, C. (2019). Prevalence of autism spectrum disorders in Indiana. Retrieved from Prevalence of autism spectrum disorders in Indiana.