Join the Indiana Resource Center for Autism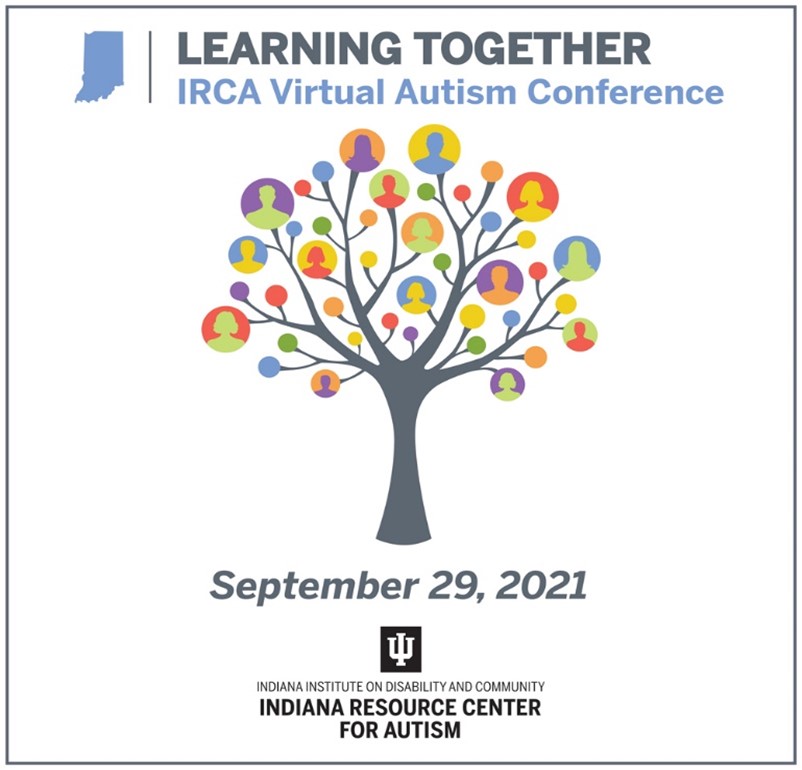 Opening Keynote Speaker:
Dr. Kathleen Quill, BCBA-D, LABA
Social and Communication Intervention for Individuals with Complex Challenges
Closing Keynote Speaker:
Dr. Cathy Pratt, BCBA-D, Director, Indiana Resource Center for Autism and Indiana School Mental Health Initiative
Lessons Learned: 40 Plus Years in the Making
Breakout Sessions Include:
Positive Behavior Supports, Perception and the Pursuit of Happiness
Let Me In... I Can Learn Too! Strategies That Are Not A One Hit Wonder
Anxiety and ASD: Adults on the Spectrum Share
ASD & Assistive Technology Supports
It's Not One or the Other: The Excitement of Incorporating Mental Health and Behavioral Supports for Children on the Autism Spectrum
ASD AND MORE: Autism and Co-Existing Conditions
About Our Center
IRCA staff respond with accurate, evidence-based, and timely information to meet the needs of individuals across the autism spectrum and across the lifespan, their families, and the professionals who support them. We have a multidisciplinary staff who come from a variety of backgrounds including education, speech-language pathology, social work, psychology, special education administration, applied behavior analysis, early childhood education, and family members of those on the spectrum.
Learn About Autism
No matter where you are in your journey from diagnosis through adulthood, our resources are here to help you navigate options related to an autism spectrum disorder.
Resources
Our website has useful information and resources including visual supports, diagnosis guides, roadmaps to state services, summer camps, recorded family support webinars and more. 
Indiana COVID-19 Vaccination Resources
The Center for Health Equity has compiled a resources list for people with disabilities and their caregivers to help them navigate and understand the COVID-19 vaccines and the process of receiving them. The list includes 1) websites to accessible documents; 2) videos in ASL; 3) information on activities you can do after being vaccinated; 4) documents explaining what the vaccines are; and 5) links to schedule vaccinations.
I feel much more prepared to work with students with autism since completing the training with IRCA. I learned practical and effective techniques that are easy to implement. I no longer feel apprehensive about working with students who have been identified with autism.

Second Grade General Education Teacher
Trainings and Workshops
Due to our desire to keep our staff and those we train safe, and to expand access to our trainings and workshops to even more people, all of our offerings are now available online.  Certificates of Attendance are available for Professional Growth Points upon course completion.  Type II BCBA credits available for some courses. 
Family Support Webinars
Drawing on expertise from across the state, Indiana Resource Center for Autism is hosting free family webinars throughout the school year. Our presenters will cover topics that families have brought to us as the areas they need the most help in.
Comprehensive Programming for Students Across the Autism Spectrum Training Series
Evidence based and learning strategies for students with ASD is the focus of this training series. This training offers a series of 7 courses with topics related to developing comprehensive programming for students across the autism spectrum and across grade levels. The training series can be purchased as a package of 7 courses or courses can be purchased individually.
Workshops by Nationally Recognized Professionals

Dr. Brenda Smith Myles
Topics: Executive Functioning and Self-Regulation
Dr. Kathleen Quill, BCBA-D, LABA
Topics: Developing Functional Communication in Students with Moderate and Severe Autism Spectrum Disorders and Repetitive and Restrictive Behaviors in Autism
Featured Resources and Articles
Support Our Work
By donating to the Indiana Resource Center for Autism, you will directly support our efforts in training teachers and school administrators, supporting families of children with autism, supporting students with autism in school groups, and more!