When working in an elementary school as a speech language pathologist (SLP), I had a student, who we will call Matt, who was a third-grade student with high-functioning autism and very verbal, to say the least!  However, even though he could  be verbose at times, he struggled with appropriate social behavior and communication. One day, while in line in the cafeteria, Matt suddenly started to scream bloody murder! We had no idea why he was screaming or what the dilemma was.  Was he injured? Was he in pain? Was he frightened? Turned out there wasn't any chocolate milk left, his beverage of choice for lunch!  How did we figure out what the problem was, and how did we teach him the appropriate social skill for when the situation would arise again?  We implemented the evidence-based practices of visual supports by designing a Cartoon Strip Conversations and a social narrative.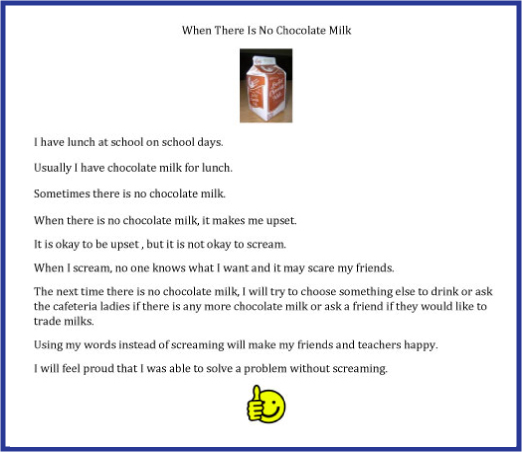 Research has shown that cartoon techniques, such as thought and speech bubbles, enable the individual with autism to get a sense of social interactions and understand the hidden rules that govern behaviors (Kerr & Durkin, 2004).  One cartooning strategy is known as Comic Strip Conversations developed by Carol Gray (1994). By illustrating conversation through simple drawings, the strategy helps the student to identify "what other people say and do" and emphasizes "what other people may be thinking." Drawing a short conversation with symbols to represent persons and speech while talking, assists the student in learning how general conversations occur. 
For Matt, we used a white board and a marker.  Using stick figures, thought bubbles and talk bubbles, we were able to first identify what Matt was thinking when he was screaming ("there's no chocolate milk") and then to show him that the cafeteria ladies and his friends didn't know how to help him when he screamed, because they were not thinking what he was thinking, that his screaming hurt their ears and that they would like to help him if they knew what he wanted.
Because of their lack of understanding of social cues or rules, people with autism spectrum disorders (ASD) often face challenges when having to respond to social behavior and engage in social interactions. There are a variety of evidence-based practices (EBPs) you can use, which have been shown to be effective for teaching social skills to students with ASD. The National Professional Development Center for Autism Spectrum Disorders has established social narratives as one of these EBPs. Not only are social narratives an EBP, but they are easy to develop and implement in your classroom, in your home or at the job site.  Social narratives are short stories, written by you and read with individuals with ASD. Educators, paraeducators, parents, or other professionals can write social narratives for various situations. Based on the individual's needs and functioning levels in an academic or nonacademic setting, social narratives can guide the individual with ASD toward appropriate behaviors or responses.  Social narratives are individualized according to the learner needs and typically are short and may include pictures or other visual supports.  Social narratives give objective statements about a variety of social situations. You can use these stories to provide social cues and correct your students' responses to situations in a nonthreatening manner. Social narratives have also shown to be helpful in addressing a wide variety of behaviors including displaying aggression, maintaining personal hygiene, reducing anxiety and demonstrating classroom expectations (Ganz, Cook, & Earles-Vollrath, 2006). Social stories are most helpful when you read them immediately before the activity and consistently at the same time and place.
How do you create a social narrative?
According to the Texas Statewide Leadership for Autism (2013), even though there are special steps and rules to be developed for different types of social narratives, the following guidelines are considered appropriate for creating social narratives:
1. Identify the social situation or setting to be taught.
2. Identify the target behavior to teach and define it operationally for data collection.
3. Collect data to decide the baseline of the target behavior.
4. Write a social narrative based on the child's needs and functioning levels. Decide the length of the narrative, including the number of sentences, phrases, level of vocabulary and so on.
5. Use visual cues, including pictures, photos or symbols, considering the child's interests and levels.
6. Read the social narrative to the child and model the desired behavior.
7. Collect data on the target behavior.
8. Review the data and results of the intervention.
9. Consider and address the maintenance and generalization of the target behavior.
For more in depth guidelines and implementation check list, go to the National Professional Development Center for Autism Spectrum Disorders at  https://autismpdc.fpg.unc.edu/sites/autismpdc.fpg.unc.edu/files/imce/documents/Social-Narratives-Complete-10-2010.pdf.
What Should You Write?
In her guidelines for Social Stories™, Gray (1995) outlines four types of sentences: descriptive, perspective, directive and affirmative when writing a social narrative.

Descriptive sentences answer your 'wh' questions such as where will the activities occur, who is involved, and what will happen. For example:
I have lunch every day.
Usually I have chocolate milk for lunch.
Sometimes there is no chocolate milk.
Perspective sentences describe reactions and feelings of your student and of other people. Perspective sentences include:
When there is no chocolate milk, it makes me upset.
It is okay, but it is not okay to scream.
When I scream no one knows what I want, and it may scare my friends.

Directive sentences tell your student what to do in the situation. Directive sentences might look like:
The next time there is no chocolate milk, I will try to choose something else to drink, or ask the cafeteria ladies if there is any more chocolate milk, or ask a friend if they would like to trade milks.
Affirmative sentences confirm that the social situation or your student's actions are positive. For instance:
Using my words instead of screaming will make my friends and teachers happy.
I will feel proud that I was able to solve a problem without screaming.
These sentences can be used in a variety of combinations to create your social narrative. Your social narratives are not meant to be a list of desired behaviors, but rather a story that provides concrete details to aid in better behavior choices. To prevent these kinds of lists, Gray (2000) suggests keeping your sentence types to a ratio of one directive sentence to every two to five descriptive or perspective statements.
How can I be creative with my social narratives?
Like all intervention we create for individuals on the autism spectrum, our social narratives should be written to be motivating and positive. Social narratives do not require fancy artwork.  They can be created with or without pictures depending on the needs of the individual. Many of your students with ASD are also very visual and might benefit from pictures depicting the situation included with the story. You can use picture symbols from a commercial program such as Boardmaker or Lesson Pix, take digital pictures, use pictures from the internet or simply draw what is needed.
Your social narratives can be formatted on a single sheet of paper, made into a flip book, a comic strip or a PowerPoint or on an iPad.  A talking book can be created on a computer, iPad or other type of tablet. Some younger individuals may enjoy their favorite cartoon characters or action figures included into their stories.
Apps that could be used to make social narratives:
Social Stories Creator and Library for Preschool, Autism and Special Needs
Story Maker for Social Stories
Stories About Me
Stories2Learn
iCreate
Social Skill Stories
My Pictures Talk
Social Stories
Social Stories For
iCommunicate
Tapikeo HD
Pictello
Kid in Story Book Maker
Software that could be used to make social narratives:
Pogo Boards :
Pogo Boards is a full-featured, robust, web-based solution for creating boards. Features include: Speech output with 42 different, high quality, text-to-speech voices. You will have access to millions of images through an intuitive, integrated Google image search, plus thousands of unique, custom symbols with SymbolStix© and the new PiCS© symbol system. Pogo Boards also gives you the ability to share boards online either within your own private community or the global community of all users.
Picto-Selector :
Picto Selector is a Windows application written for easy selection and printing of pictos.  After downloading and installing the software you can start creating pictosheets. You can insert your own pictures into a pictosheet or choose from over 24,000 pictures and symbols. Once you are finished you can save it as a pdf and print out a copy to use.
ConnectABILITY :
ConnectAbility offers a visuals engine that is great for creating a quick social story on the fly. There are no downloads necessary. Simply select your template (choose from choice time, rules, schedules, personal stories and more), add Boardmaker images or upload your own images and print or save as a PDF.
LessonPix :
LessonPix is an easy-to-use online resource that allows users to create various customized learning materials. LessonPix offers a simple three step process for creating a social story.
Boardmaker :
Boardmaker was one of the first and most well-known social story applications created. Boardmaker lets you create talking books, behavior supports, schedules, rewards charts and much more. Boardmaker also lets you download over 10,000 ready-made boards that other members have created. Please note that Boardmaker was designed for schools and therapists and therefore the price is significantly more than other products.
For Matt, we simply had to write the story on a single sheet of paper and read it to him approximately 3-4 times prior to going to lunch.  After reading the social narrative, no further intervention was needed and the problem of screaming in the cafeteria did not reoccur.  Instead, Matt would ask for item that he wanted but did not see.  
 
Where can I go to learn more?
The National Professional Development Center on Autism Spectrum Disorders has an entire module on social narratives that includes an overview, step by step directions, research and implementation checklist. The module can be found at  https://autismpdc.fpg.unc.edu/sites/autismpdc.fpg.unc.edu/files/imce/documents/Social-Narratives-Complete-10-2010.pdf.
A video instructional module can be found on the Autism Internet Modules at  https://www.autisminternetmodules.org/
Indiana Resource Center for Autism has various social narratives on their Facebook page or under the visual supports tab in their resource section of website.

Free social narrative websites:
Earlywood Educational Services: https://www.earlywood.org/Page/554
The Watson Institute:

 

https://www.thewatsoninstitute.org/resources/behavior-stories/
Social narratives is an evidence-based practice that is easy to design and implement and which have been shown to be effective for teaching students with ASD social skills and stories to provide social cues and correct your students' responses to situations in a nonthreatening manner.